AWARDS & INDUSTRY RECOGNITIONS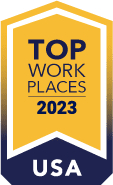 Everything Weifield does is centered on one paramount goal: to go above and beyond to satisfy our clients' needs every day, with every project. As a result of our efforts, we are often recognized externally with awards, honors, and industry recognitions that validate we are achieving our performance goals. Here are a few of our recent awards and recognitions:
"I've gone from being 16 and not knowing what I'm going to do, to being 25 – just bought my first house. I have a great job – tons of upward mobility; I am absolutely thrilled to be working here. What I love most about Weifield is the people I get to work with. We have great people here – particularly ownership and upper management. They are extremely caring people, genuine when they say they care about you – not just as an employee, but as a person – and willing to help you out. They mean it when they say their people are their strength; they take that to heart and their actions show it, not just their words."

Weifield Field Supervisor
At Weifield, we pride ourselves in achieving honesty, integrity, and quality in all aspects of our business. Weifield represents more than an electrical contracting company – we are an organization devoted to our people, our clients and the community, a company filled with innovative ideas, and a team united in providing the best services in the electrical industry. By choosing Weifield, you become part of our team as we work to define the future of electrical construction!